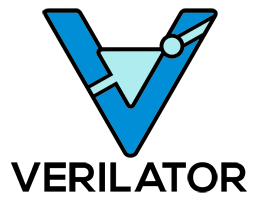 Verilator Documentation¶
Program Documentation¶
Verilator Manual [text] - Install Verilator and see "verilator --help"
Announcements¶
To get notified of new releases, login, and click the "watch" button near the top right under News.
Commercial Support¶
Tutorials¶
High Performance SoC Modeling with Verilator - A Tutorial for Cycle Accurate SystemC Model Creation and Optimization using Verilator. By Jeremy Bennett of Embecosm. Includes tips on optimizing performance and removing compile warnings.
Verilator Waivers - Verilator Wavers. By Stefan Wallentowitz. How to efficiently maintain lint waivers.
Benchmarks¶
Papers¶
Other General References¶
Notable Open Source Projects Using Verilator¶
RISC-V Contest - Contest sponsored by Google, Antmicro, Lattice Semiconductor and Microsemi, requires use of Verilator in all submissions.
FuseSoC - Package manager and build tools including Verilator support
Jamie Iles 80186 core - 80186 verified with Verilator, and Verilator to cobertura coverage importer.
ZipCPU - 32 bit processor verified with Verilator.
Many, many more on github and OpenCores, among others.