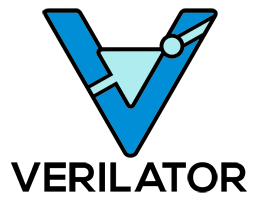 Verilator Documentation¶
Program Documentation¶
Verilator Manual [text] - Install Verilator and see "verilator --help"
Announcements¶
To get notified of new releases, login, and click the "watch" button near the top right under News.
Commercial Support¶
Tutorials¶
High Performance SoC Modeling with Verilator - A Tutorial for Cycle Accurate SystemC Model Creation and Optimization using Verilator. By Jeremy Bennett of Embecosm. Includes tips on optimizing performance and removing compile warnings.
Verilator Waivers - Verilator Wavers. By Stefan Wallentowitz. How to efficiently maintain lint waivers.
Benchmarks¶
Papers on Verilator Specifically¶
Verilator's Wikipedia entry - See paper references at of the article.
Verilator Internals 1 - Internal structures and debugging of Verilator.
Verilator, Accelerated - The accelerated development of Verilator with case study of accelerating SweRV core. OSDA 2020
Ten Creative Uses for Verilator - Verilator for non-traditional tasks. CHIPS Tools 2019.
DPI Protected Verilog Instead of Encryption: A non-broken and open source friendly alternative to IEEE-1735 [pdf] - Using Verilator's --protect-lib for IP. Presented by Todd Strader to ORConf 2019.
Verilator Your Big 4th Simulator 2019 Intro and Roadmap - Verilator intro and futures. CHIPS Alliance 2019.
Verilator 4.0: Open Simulation Goes Multithreaded [pdf] - Verilator 4.0 features and multithreading, presented by Wilson Snyder <wsnyder@wsnyder.org> to ORConf 2018.
Verilator: Speedy Reference Models, Direct from RTL [pdf] - Reference models, using Verilator, and some possible future directions. Presented by Wilson Snyder <wsnyder@wsnyder.org> to University of Massachusetts Amherst.
Verilator: Open Simulation - Growing Up [pdf] - Recent changes in Verilator and contributing back. Presented by Wilson Snyder <wsnyder@wsnyder.org> to 2013 DVClub Bristol.
Verilator: Fast, Free, but for Me? [pdf] - Presentation on open sourced simulator advantages, downsides. Introduction and tips on using Verilator, and other Veripool tools. Presented by Wilson Snyder <wsnyder@wsnyder.org> to 2010 DVClub Bristol.
Verilator SystemC Environment Slides [pdf] - A paper on using Verilator inside a SystemC environment presented by Wilson Snyder <wsnyder@wsnyder.org> to the 2004 North American SystemC User's Group part of the Design Automation Conference.
Verilator Internals Slides [pdf] - A presentation on history, usage, and some internals of Verilator presented by Wilson Snyder <wsnyder@wsnyder.org> to Philips Semiconductors in July 2005.
Other Papers Using Verilator¶
Notable Open Source Projects Using Verilator (in alphabetical order)¶
Apache TVM Open Deep Learning Compiler Stack - Compiler stack for deep learning integrating Verilated models
Chisel - Chisel hardware language has Verilator backend
FuseSoC - Package manager and build tools including Verilator support
Jamie Iles 80186 core - 80186 verified with Verilator, and Verilator to cobertura coverage importer.
OpenTitan - Open source root-of-trust builds with Verilator
PyMTL3 - PyMTL open-source Python-based hardware generation, simulation, and verification framework
RISC-V Contest - Contest sponsored by Google, Antmicro, Lattice Semiconductor and Microsemi, requires use of Verilator in all submissions.
SweRV RISC-V Cores - Open-sourced high and low performance RISC-V cores
vmodel - Tool to simulate Verilated Verilog modules inside MATLAB simulations.
ZipCPU - 32 bit processor verified with Verilator.
Many, many more on github and OpenCores, among others.